Samer Abu Hawwash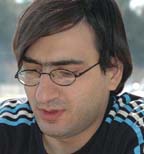 was born in Beirut in 1972 to a family of Palestinian refugees. Since 1991 he has published poetry and articles in various Lebanese newspapers and magazines.He graduated in 1996 from the Lebanese University of Journalism and Communication.
His first collection of poetry (in Arabic), Life is Printed in New York, was published in 1997. Since then he has published nine poetry collections, including Salute of a Gentleman, Last Selfie With a Dying World, and This is Not the Way to Make Pizza.
Since 2004 he has lived and worked in the UAE, translating American poetry and English-language fiction and non-fiction. He has translated into Arabic the poetry of more than twenty American poets, including poets such as Ai, Charles Buckowski, Langston Hughes, Kim Addonizio, Robert Bly. He has translated many contemporary English-language novels into Arabic - more than forty fiction and non-fiction works of major American writers, including Jack Kerouac's On the Road, Yann Martel's Life of Pi and Hanif Kureishi's Buddha of Suburbia.

In 2009 he was chosen as one of the 39 young Arab authors of Beirut39 project, celebrating Beirut as World Book Capital 2009-2010.
---
Contributor's Issues
Banipal 15 - /16 – Autumn 2002/Spring 2003
Banipal 30 - Autumn/Winter 2007
Banipal 65 - The Beautiful Creatures of Fadhil Al-Azzawi (Summer 2019)
Banipal 66 - Travels (Autumn/Winter 2019)