Gamal el-Ghitani (1945-2015)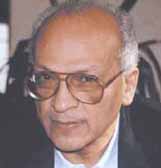 Gamal el-Ghitani was one of Egypt's leading novelists of the 20th & 21st century, and for many years was a Consulting Editor of BANIPAL. He died in Cairo on 18 OCtober 2015. He had been in a coma for several weeks, following admission to hospital for respiratory problems.
Initially trained as a carpet designer, Gamal El-Ghitani switched careers in his twenties and became a journalist, joining the staff of the newspaper Akhbar al-Yawm in 1969 and serving as a front-line correspondent during the 1973 Arab-Israeli war. His first short story had been published while he was still in his teens, but it was with his novel al-Zayni Barakat, first published in book form in 1974, that he was thrust into prominence, both within and beyond Egypt itself. Set in Cairo just before the Ottoman invasion of Egypt in 1517, the work revolves around the historical figure of al-Zayni Barakat, who served as muhtasib (sharia inspector of bazzars) in Cairo, but was widely interpreted as an allegorical critique of the repression of the Nasserist regime, under which El-Ghitani himself had been briefly imprisoned in 1966.
Al-Zayni Barakat (translated into English under the same title by Farouk Abdel Wahab) is characterised by the use of 'intertextuality', a technique that some critics have seen as owing something to El-Ghitani's training as a carpet designer, and which was to become one of the most distinctive features not only of El-Ghitani's own work, but also of the so-called 'Generation of the Sixties' as a whole. His subsequent novels included Waqa'i' Harat al-Za'farani (1976, translated by Peter O'Daniel as Incidents in Zafrani Alley), which includes a cruel but prophetic picture of Anwar al-Sadat; Khitat al-Ghitani, which uses a medieval literary form to create a fictional 'map' of modern Egypt; and perhaps his most ambitious work, Kitab al-Tajalliyat [The Book of Revelations], which uses a work by the medieval writer Ibn 'Arabi as a source text for a novel mingling personal and mystical elements with social and political criticism of contemporary Egypt. This mingling of the medieval and the modern literary traditions remained one of the most notable features of El-Ghitani's work, and in total he produced more than a dozen full-length novels, as well as several collections of short stories – though despite their own individual merits, it is probably fair to say that none of his other works ever quite succeeded in eclipsing the power and impact of the early al-Zayni Barakat.
In addition to his novels and short stories, Gamal el-Ghitani will be remembered as the founder in 1993 of the weekly Akhbar al-Adab, a leading Egyptian literary magazine, which he edited until 2011. Throughout his career a staunch defender of artistic freedom and opponent of authoritarianism and fundamentalism, Gamal El-Ghitani nonetheless supported the ousting of President Mohammed Morsi in 2013 – a move that, like many Egyptian intellectuals, he probably simply regarded as the 'least bad' option available.

He received a number of prestigious awards during the course of his career, including the French Chevalier de l'Ordre des Arts et des Lettres; the Sheikh Zayed Book Award in 2009 and, most recently, the Nile Award for Literature in 2015.

His death leaves a conspicuous gap at the heart of the Egyptian literary community, and he will be greatly missed – not just in Egypt and the Arab world, but wherever his distinctive voice had reached through the many translations of his works into English, French, and a range of different languages.
Paul Starkey
---
Contributor's Issues