Ihsan Abdel Kouddous (1919–1990)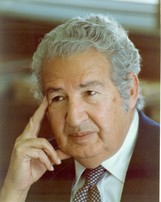 Ihsan Abdel Kouddous (1919–1990) is one of the pillars of modern Arabic literature, a prolific writer of novels and stories. Dozens of films were based on his stories and his novels, such as Al-Wissada al-Khaliya (The Empty Pillow), La Tutfi' al-Shams (Don't Blow out the Sun), Anf wa Thalat 'Auyoun (A Nose and Three Eyes), Al-Nadharah al-Sawda' (The Black Glasses), Al-Khait al-Rafi' (The Thin Thread), Ayna 'Aqli (Where is my Mind), Ukhti (My Sister), Ghaba min al-Siqan (A Forest of Legs), Fi Baytina Rajul (A Man in the House), and more.
Introducing the Banipal 71 feature on him, the magazine's editor Samuel Simon wrote: "I will not be exaggerating if I say that I have read more than thirty books by Ihsan Abdul Kouddous, and I can say today (2021) that he is the most daring and honest Arab writer in all that he wrote, more than any other writer until today. And if Rose El-Youssef (his mother) revolutionized the world of the Arab press and freedom of expression in the Arab world, then the brave writer Ihsan Abdel Kouddous has erased the red lines of censorship set by state or society."
In an article about the Egyptian writer, Hassouna Mosbahi noted: "It would be no exaggeration to equate Abdel Kouddous's daring and braveness with that of great writers from the West who challenged all forms of censorship imposed on subjects related to love and sexuality".
The feature on Ihsan Abdel Kouddous includes a chapter from two of his most famous novels, I Do Not Sleep and A Nose and Three Eyes, which are translated with an introduction by Jonathan Smolin, a long story entitled "Girl Three" from the famous book Girls in Summer, translated and presented by Raphael Cohen, and two studies on Abdel Kouddous by Hassouna Mosbahi from Tunisia and Mahmoud al-Ghitani from Egypt.
---
Contributor's Issues
Banipal 71 - Salutes Ihsan Abdel Kouddous