Maher Jarrar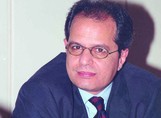 Maher Jarrar is a Professor at the American University of Beirut, both with the Civilization Sequence Program and the Department of Arabic.
He received a PhD in Arabic and Islamic Studies from Tübingen University in 1989.
In 1996 and 2011 he was Visiting Professor at the Center for Middle Eastern Studies, Harvard University, USA, and in 2002-2003 was a Fellow at the Wissenschaftskolleg in Berlin.
He has published numerous books and articles in the fields of Islamic studies, Arabic literature, and literary criticism.
His essay Language and Textual Strategies: A Reading of Elias Khoury's Novels was published in the Special Feature, Elias Khoury, The Novelist, in Banipal 67 (Spring 2020).
---
Contributor's Issues
Banipal 67 - Elias Khoury, The Novelist (Spring 2020)