Farouk Yousif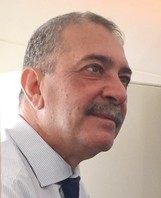 Farouk Yousif was born in 1955 in Baghdad and studied Art at the Academy of Fine Art in Baghdad.
He is a poet and art critic and his first collection of poems, Silent Songs, was published in 1996. Since then he has published six other collections of poetry. He has published five books of Art criticism, the first being The Mask of Paintings in 1996 and the most recently Biography of the Invisible in 2011. He has also participated in the writing of several other books of Art criticism. He has also published six travelogues the latest of which, Sleeping Paradise, came out in 2011.
He was the winner of the Ibn Battuta award in 2006 for his travel book Nothing Nobody. He has also worked as a critic for several newspapers including Al Hayat, Al-Quds Al-Arabi, An-Nahar and Al-Arab.
He is a Swedish citizen, and lived there with his family for a number of years before they moved to London, where they now live. He currently writes for Al-Arab newspaper.
---
Contributor's Issues
Banipal 66 - Travels (Autumn/Winter 2019)
Banipal 65 - The Beautiful Creatures of Fadhil Al-Azzawi (Summer 2019)