Past Events
14 December 2011
Evening
Intercontinental Beach Garden, Abu Dhabi
Banipal 42 - New Writing from the Emirates is a celebration of modern Emirati Literature. In the printed magazine, and online, works by 27 Emirati authors are presented and introduced in English translation.
Three poets from the issue, Adel Khozam, Khulood Al Mualla, and Ahmed Rashid Thani, together with Banipal's publisher Margaret Obank and English-language readers Alice Johnson and Frank Dullaghan gave a taste of these literary riches in their English and Arabic readings.
Addressing the audience, who gathered for the event in atmospheric bedouin tents erected in the Intercontinental Hotel's Beach Garden, Margaret spoke of the thriving literary scene in the Emirates, with male and female authors producing excellent poetry and prose which is almost unknown in the West.
Margaret thanked the Emirates Foundation for supporting Banipal in its efforts to promote Emirati literature and in particular for supplying copies of Banipal 42 for all those who attended the event. She also gave thanks to Philip Kennedy and Paula Horta of NYU-AD for their collaborative work with Banipal and mentioned the excellent work of literary salons in the UAE for promoting a range of new Arab literature.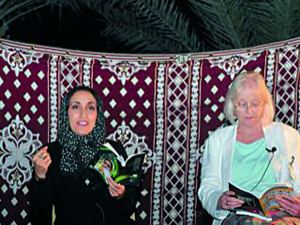 Emirati poet Khulood al-Mualla with Banipal editor Margaret Obank.
Adel Khozam and Ahmed Rashid Thani enjoy a reading in the comfort of the traditional bedouin setting.
Banipal 42 is supported by Emirates Foundation