Past Events
Wed 25 January 2012
6.30-9.30pm
Curiositea, Warwick University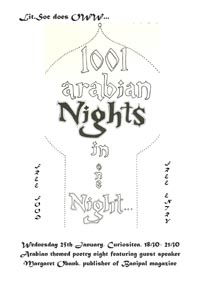 The English Literature Society is holding a Arabic literary evening at Curiositea as part of One World Week.
With readings and guest speaker Margaret Obank talking about who's writing what today in the Arab world, bringing something of the Arabic cultural heritage
The event aims to make people aware of the thriving literary culture of the Arabic world and the way in which it differs from that of the Western world and the way in which it is the same – the way in which we are One World, with literature from that One World.
It is a FREE event, with FREE food, and FREE copies of Banipal magazine.


One World Week (OWW) is the "World's Largest Student Run International Event" and is hosted annually at the University of Warwick. The 17th annual One World Week runs from Friday 20th January to Saturday 28th January 2012.
Each day of the week is devoted to a different area of the world and each day will feature different types of activities – cultural, sporting, forum discussions and panels, and nightlife. Wednesday 25 January is the day devoted to the Middle East and Africa.
One World Week is an entirely student-run, non-profit initiative. It aims to stimulate personal development and inspire a view based on acceptance and appreciation of the World's Mosaic of Cultures, encouraging awareness of and positive action on issues which affect our One World. For more information click here.

Banipal is pleased to support One World Week