Past Events
28 September
7pm
The Gallery at Foyles Charing Cross Road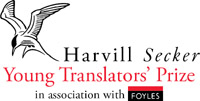 Egyptian Wiam El-Tamami was announced as the winner of the second Harvill Secker Young Translators' Prize at a ceremony at Foyles Charing Cross Road, London on Wednesday 28th September. As the winning translator she will receive £1000, a selection of Harvill Secker titles, £100 of Foyles' book tokens, a year's subscription to Banipal Magazine and a chance to translate for the magazine during 2012.
The chosen language for the 2011 prize was Arabic and entrants were asked to translate the short story 'Layl Qouti' (Gothic Night) by Egyptian writer M
ansoura Ez Eldin.
Winner Wiam El-Tamami is 27 years old and has lived in Egypt, Kuwait, England and Vietnam. After completing a BA in English & Comparative Literature at the American University in Cairo in 2004, she obtained an MA in Writing for Children at the University of Winchester. She is currently a freelance editor of literary translation at the AUC Press.

The prize was judged by author Penelope Lively, translator Anthony Calderbank, journalist Maya Jaggi and Harvill Secker editor and founder of the prize Briony Everroad. There were a total of 92 entries from 19 countries: United Kingdom, Syria, USA, Egypt, Israel, Croatia, Tunisia, Oman, Jordan, United Arab Emirates, Belgium, Palestine, Iraq, Algeria, Syria, Lebanon, Switzerland, Kuwait and South Africa.


You can read the winning entry of Gothic Night, published online by Granta here.

Below are some photos taken by Samuel Shimon at the event itself: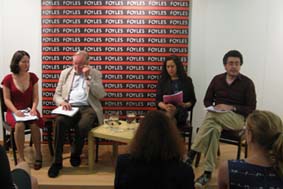 The Panel: (left to right), Briony Everroad, Paul Starkey, Maya Jaggi and chair Daniel Hahn

Wiam's mother, with Margaret Obank, Wiam El-Tamami, Samuel Shimon and Maya Jaggi

Paul Starkey

Winner Wiam El-Tamami with Prize Founder Briony Everroad
_______

In celebration of the Harvill Secker Young Translators' Prize, literary journalist Maya Jaggi, Prize founder Briony Everroad and translator Professor Paul Starkey discussed literature in translation and this year's chosen language for the prize, Arabic, with chair Daniel Hahn, programme director of the British Centre for Literary Translation. Unfortunately author Penelope Lively was not able to join the panel as planned. The winner of this year's prize, Wiam El-Tamimi, was announced after the discussion.
For all information at the Young Translators' Prize website, click here

The prize is officially supported by Banipal