Past Events
10-13 March 2010
10-13 March 2010
Dubai Festival City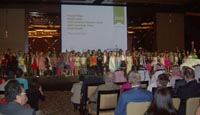 Opening pageant of the Festival

More than 80 authors from around the world converged on Dubai Festival City for the second Emirates Airline Literature Festival, opening with a rousing choral and dramatic performance by hundreds of young schoolchildren dressed as familiar characters from children's books. Throughout each day approximately 25 different events in three halls entertained and inspired the thousands of readers, who flooded after each session into the specially arranged bookshop displaying countless titles, and who queued patiently to have their books signed by the authors.
Authors to suit every taste included Martin Amis, Alexander McCall-Smith, DJ Taylor, Yann Martel, Amit Chaudhuri, Roger McGough, William Dalrymple, Isabel Fonseca, Conn Iggulden and Gervase Phinn, along with children's authors Jaqueline Wilson and Garth Nix, and broadcasters John Simpson, Francis Wheen, Kate Adie and James Meek, plus Slumdog Millionaire author Vikas Swarup, and many more.


Bahaa Taher Alawiyya Sobh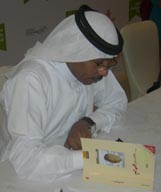 Abdo Khal
In addition to the Arab authors award winning Bahaa Taher and Abdo Khal, there was Fadhil al-Azzawi, Alawiyya Sobh and Leila Aboulela, also Youssef Zeidan, Ahdaf Soueif and Ghada Karmi, plus Emirati poets and authors who held special sessions of readings, and award-winning children's publisher Nadine Touma. Among the sessions was a special tribute to the late Tayeb Saleh, and in another Samuel Shimon showed rushes of his film about the late Iraqi poet Sargon Boulus.
Festival Director Isobel Aboulhoul is to be congratulated on a second terrific festival that left audiences just wanting more.