Past Events
Monday 13th July 2009
7:00pm to 9:30pm
London Review Bookshop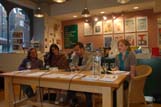 Sinan Antoon, Siham Bouhlal, Mustafa Stitou & Charis Bredin at The London Review Bookshop
The London Review Bookshop
Presents Moroccan Poetry

Three Moroccan Poets – Hassan Najmi, Ouidad Benmoussa and Siham Bouhlal – were due to introduce the audience to the vibrancy of Moroccan poetry with readings from their work in Arabic, French and English.

In the end we had but the spirits of the first two poets with the Iraqi authors Samuel Shimon and Sinan Antoon reading poems by Hassan Najmi in Arabic and English translations by Sinan Antoon, while Charis Bredin read poems by Ouidad Benmoussa in English translation. All the translations are published in Banipal 35.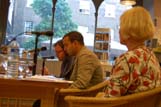 Banipal's editor introduced the evening, telling the audience about the drastic and penalising visa system that invited authors were now subjected to, and also about the petition against the new system.


For more information and links to the petition please go to the News column on our home page:

We welcomed Siham Bouhlal to read her poetry in French, with English translations read by Banipal's editor, and as a wonderful finale we were delighted to welcome the last-minute addition to the evening of Mustafa Stitou, the young Moroccan-born poet who is a prize-winning poet in the Netherlands, and who enchanted the audience with readings from his poems in the Dutch orgiinal and in English translation, also assisted by readings in translation by Sinan Antoon.


It was so unfortunate and a great shame for the audience that due to new regulations introduced by the Home Office on international authors, artists and academics visiting the UK for readings, talks, temporary exhibitions, concerts or artists' residencies, it became impossible for both Hassan Najmi and Ouidad Benmoussa to get their visas for the event.

Morocco is a country which writes, reads and celebrates poetry all year round, which saw the establishment of the Arab world's first and to date most serious House of Poetry in 1996, and which is home of the Casablanca International Poetry Festival.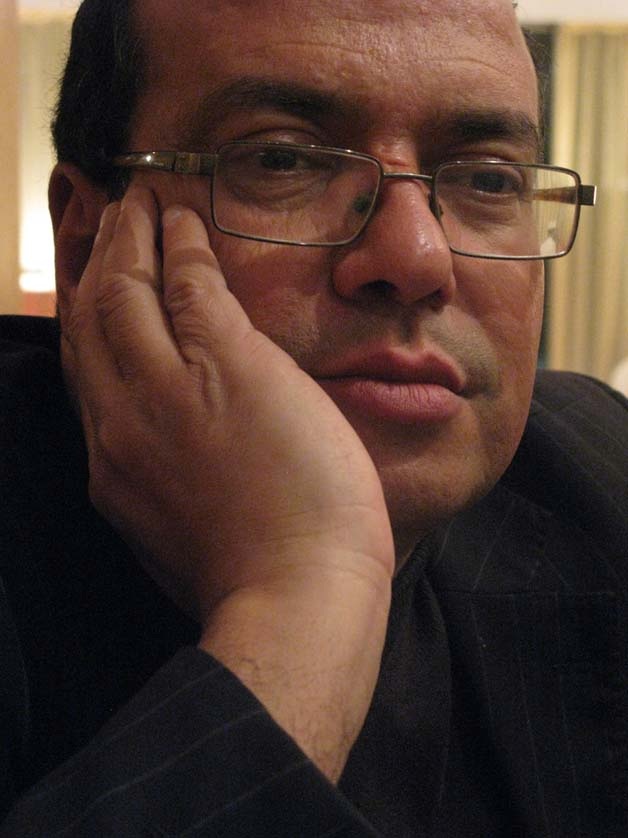 Hassan Najmi is one of Morocco's best known literary figures, having devoted most of his adult life to either writing, reading, promoting, publishing or performing Arabic literature. In addition to his own numerous poetic works, he has published a novel and two books of essays. He worked for many years as arts editor of Al-Ittihad al-Ishtiraki newspaper, was President of the Moroccan Union of Writers from 1998 to 2005. He is presently director-general of the Book and Publications Department of Morocco's Ministry of Culture.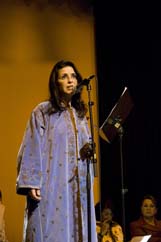 Siham Bouhlal lives in Paris and has three collections of her own poems, Poèmes bleus (2005), Songe d'une nuit berbère ou La tombe d'épines (2007) and her latest Corps Lumière (2008) with a fourth in preparation. She translates to French medieval Arabic texts and contemporary Arabic poetry.


Ouidad (Widad) Benmoussa is a young poet, making strides in the
poetry scene. She has published two collections, including Between Two Clouds in 2006. Her first collection, The Imminent Root (2001), established her as a poet to watch.


Sinan Antoon is a poet, novelist, translator and filmmaker. He was born in Baghdad and moved to the USA after the 1991 Gulf War. He has translated the poems of Hassan Najmi and read a selection of them on the night. The evening's readings were in English, Arabic, and French.


Mustafa Stitou spent the first years of his life in Morocco before moving to the Netherlands where he has lived since. He made his debut with Mijn vormen [My Forms] in 1994 followed in 1998 by Mijn gedichten [My Poems].

His most recent collection Varkensroze ansichten [Pig Pink Postcards], 2003, earned him a place in the forefront of contemporary poetry in Holland. He was awarded the prestigious VSB Poetry Prize.

Banipal 35 features translations of works by all four poets.

The evening finished with Middle Eastern refreshments.

Many of the audience have since signed the petition against the new visa regulations and restrictions penalising artists who are invited to take part in cultural events in the UK.
The London Review Bookshop event was organised in association with Banipal, and the Moroccan poets' visit was supported by The Arab British Centre and The Banipal Trust for Arab Literature.

Banipal 35 features new translations of works by all four poets.

Address:
14 Bury Place
London
WC1A 2JL
Tel: 020 7269 9030
For information about the London Review Bookshop: www.lrbshop.co.uk