Past Events
Saturday 11th July 2009
12:45pm / 8:00pm
Ledbury Poetry Festival
Event 1 - Launch of two new poetry books from Banipal Books

Shepherd of Solitude by Amjad Nasser
and
Knife Sharpener by Sargon Boulus (1944-2007), in the Burgage Hall
This event saw the launch of two new collections of poetry translated from Arabic and published by Banipal Books, Shepherd of Solitude by Amjad Nasser and Knife Sharpener by Sargon Boulus. These two books constitute the beginning of the Banipal Books Arab Poetry in Translation Series.
Amjad Nasser is a Jordanian poet and works in London as managing editor and cultural editor of Al-Quds Al-Arabi daily newspaper. Born in al-Turra, Jordan, in 1955, he is a major contributor to today's Arab poetry scene and has published eight volumes of poetry and two travel memoirs. Shepherd of Solitude is his first collection in English translation. A selection of his poetry was published in French translation, Ascension de l'amant, with a Foreword by Adonis, (1998), also one in Italian (2001) and one in Spanish (2002).


Sinan Antoon, Amjad Nasser and Margaret Obank at the book launch
This event also celebrated the late Iraqi poet Sargon Boulus, one of the best known and influential of contemporary Arab poets, who died in 2007. Iraqi author Samuel Shimon introduced and showed his short film of Sargon Boulus, who talks about his poetry and reads two of his own poems, including the title poem, Knife Sharpener. This was followed by further readings from the collection by Sinan Antoon.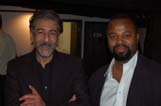 Amjad Nasser and Ben Okri both performing at the Ledbury Poetry Festival


Event 2 - Moroccan Poetry Reading
in The Barn at Hellens, Much Marcle

This event was originally intended to welcome three Moroccan poets – the distinguished poet Hassan Najmi, the emerging, original voice of Ouidad (Widad) Benmoussa, both working in Arabic, and their compatriot Siham Bouhlal writing in French. Unfortunately, due to tightened visa regulations and obstacles presented by the British governement's now outsourced private visa company, it was impossible for Hassan and Ouidad to make this visit. We were, however, delighted to welcome Mustafa Stitou who came from the Netherlands at the last minute and read poems from two of his collections Mijn gedichten (My Poems) and Varkensroze ansichten (Pig Pink Postcards). Writings from both these collections were also featured in the latest Banipal 36.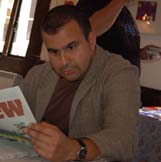 Mustafa Stitou
Morocco is a country which writes, reads and celebrates poetry all year round, which saw the establishment of the Arab world's first and to date most serious House of Poetry in 1996, and which is home of the Casablanca International Poetry Festival.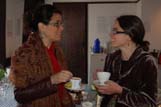 Siham Bouhlal & Chloe Gardener enjoy a cup of tea
Hassan Najmi has published four collections of poems, one novel and two books of essays. He worked for many years as arts editor of Al-Ittihad al-Ishtiraki newspaper. He was President of the Moroccan Union of Writers from 1998 to 2005 and is presently director-general of the Book and Publications Department of Morocco's Ministry of Culture.
Ouidad (Widad) Benmoussa has published two collections, including Between Two Clouds in 2006. Her first collection, The Imminent Root (2001), established her as a poet to watch.
Siham Bouhlal lives in Paris and has three collections of her own poems, Poèmes bleus (2005), Songe d'une nuit berbère ou La tombe d'épines (2007) and her latest Corps Lumière (2008) with a fourth in preparation. She translates to French medieval Arabic texts and contemporary Arabic poetry.
Sinan Antoon is a poet, novelist, translator and filmmaker. He was born in Baghdad and moved to the USA after the 1991 Gulf War. He has translated the poems of Hassan Najmi and will introduce the poets. The evening's readings will be in English, Arabic, and French.
Mustafa Stitou spent the first years of his life in Morocco before moving to the Netherlands were he has lived since. He made his debut with Mijn vormen (My Forms) in 1994 followed by Mijn Gedichten (My Poems) in 1998. His most recent collection, Varkensroze ansichten (Pig Pink Postcards) earned him a place in the forefront of contemporary poetry in the Netherlands. He was also awarded the prestigious VSB Poetry Prize.
Following the performance Moroccan food was served in Hellens and afterwards guests were free to explore its lovely grounds, although fairly heavy rain kept everyone inside the manor enjoying its sense of history.
There was a Bar available and the historical manor provided a truly stunning setting for the event.
for information about Hellens: http://www.hellensmanor.com/about-hellens.html
contact Ledbury directly: Box office information
How to get there - Map and directions
For more info: http://www.poetry-festival.co.uk