Past Events
Tue 08 July 2008
7pm
London Review Bookshop, 14 Bury Place, London WC1A 2JL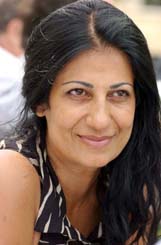 Hala Mohammad has directed several successful documentary films about Syrian writers, some broadcast on satellite TV channels, including Al-Jazeera. Born in Lattakia, Syria, she studied film-making in Paris and worked as a costume designer for two well-known Syrian films, al-Lail and Sandouq al-Dunya. Since 1994 she has published three collections of poetry.


Monzer Masri is a poet and painter, also from Lattakia, Syria, where he still lives. He published his first collection of poetry in 1979 (Syrian Ministry of Culture). His second was written with his sister, the poet Maram al-Massri who lives in France, and the late Syrian Mohammed Sayda. In 1997 and 2004 he published two collections of poems, with a third coming out later this year, 2008 (all Riad El-Rayyes, Beirut).







Rasha Omran is the director of Al-Sindiyan festival of culture. Born in Tartus, Syria, in 1964, she has published three collections of poetry.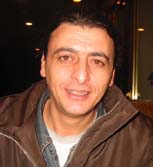 Lukman Derky has worked for television and theatre as writer, actor, author, also writing in Syrian and Arabic newspapers, with a daily column in Baladna, a Syrian paper. He is a co-founder of the satirical newspaper Al-Dumery, and founder of Alif magazine for new writing, and has published six collections of his own poetry and one of short stories. A member of Aleppo University's literary circle in the 1980s, he was born in Derbassiya, Syria, in 1966, and lives now in Damascus.


• The visit of the poets to the UK is being made possible by the support of The Arab British Centre, Banipal, the British Council, Ledbury Poetry Festival and Literature Across Frontiers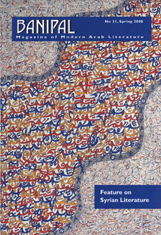 Poems of all four poets have been specially translated for the events and are published in Banipal 31, Spring issue. To buy a copy direct from Banipal, before the event, click here.