Past Events
Wed 10 October 2007
All day each day
FRANKFURT BOOK FAIR
The world's largest fair for the book trade was attended by even more visitors than last year, over 280,000.
Peter Ripken, director of the International Centre, and reowned Somali author Nuruddin Farah at the Centre's Africa Reception

Hall 5, home of Frankfurt Book Fair's International Centre was a veritable hub, housing the Guest of Honour Pavilion for Catalan Culture, as well publishers from the Arab world, South American and African countries, Iran, Turkey, Russia, Poland, the Czech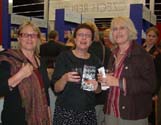 Alexandra Büchler of Literature Across Frontiers, Director of the Czech Republic Stand, and Banipal's publisher, at the stand's opening reception

Republic, Estonia, Armenia, and many others; also booths for small independent literary publishers, such as Banipal, Dar al-Jamal, and Hans Schiler Verlag.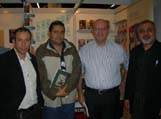 At Banipal's stand in the Book Fair's International Centre, Khaled Abbas of Sphinx Agency, Hassan Hammad, publisher/editor of Lisan magazine, Jordanian publisher Mahar Kayyali, and Samuel Shimon

The nearby Translators Centre, this year with 13 partners including the newly established Kalima Foundation for translation into Arabic, is integral to the International Centre. It is open to translators, interpreters and all interested visitors with a full programme of events and panels, as well as being a source of contacts for the world of translation, its activities including "Award-winning translators in Conversation" and "Showpiece Translators" in action, panels on funding for European translation institutes and on recognizing the face of Europe as being a "work of translation" itself requiring regular support for the international circulation of literary works.
Margaret Obank with Interlink's publisher Michel Moushabeck at the fair
Most of the translation houses and organizations participating focus on the translation of literature into other languages, but a spokesman from the Kalima Foundation, asked by an eminent translator from Arabic why they were funding only the translation of works into Arabic, explained that the establishment of the Foundation was primarily, and particularly for the first five years, a developmental step not a cultural one, and a fundamental response to the small number of translated works into Arabic that had been identified in the 2003 Arab Human Development Report as a major factor restricting the growth of knowledge in the Arab world.
" title="Cities of Refuge stand, FBF 2007" />
The stand, in the International Centre, of the re-established International Cities of Refuge Network, based at the Cultural Centre in Stavanger, which will be 2008's European Capital of Culture
A number of Arab publishers had stands in Hall 5, although many literary publishers were missing. However, the Book Fair's collaboration with the Abu Dhabi International Book Fair is on-going, and there seems generally to be a feeling that change is in the air for the Arab publishing world. And in April 2008 Arab publishers are the guest of honour at the London Book Fair.