Past Events
Tue 17 April 2007
7pm for 7.30pm
Daunt Books, 112-114 Holland Park Avenue, London W11 4UA
Lebanese author Jad El Hage was on a special visit from Lebanon to celebrate his second novel written in English, described by veteran Middle East commentator Patrick Seale as "A must read".

Guests were refreshed with Lebanese snacks and delicious Ksara wine.

After a short reading from The Myrtle Tree by Banipal's publisher, Jad El Hage described how he had come to write the novel, which was loosely based on an earlier more "historical document" of Lebanese life that he wrote in Arabic.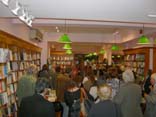 Listening to the author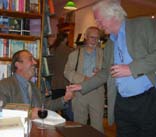 The author greeted by Peter Clark

One of his aims in that work, he said, "was to inject my story with every proverb, anecdote and folk tradition of the Lebanese mountain, for fear that the civil war that was still raging while I wrote would wipe out that ancient and precious world".

The seeds had been sown in the early eighties, when the civil war was still raging in Lebanon and Jad el Hage was working in Greece – one day he just started writing about a remote Lebanese village ready to start its olive harvest and hoping that the civil war would leave it alone. He spent five years completing it; it was published successfully and ran to two editions.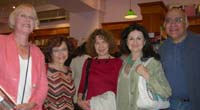 Hanan al-Shaykh, Aamer Hussein, Ghalia Kabbani and others

"Wahdeh, the idyllic and fictional country village, represented the spirit of every Lebanese village at its best and worst," Jad El Hage explained. "It was neither Christian nor Muslim. It was Lebanese inside and out. I strived at this aspect to convey the common particularities of those people who still lived close to the land, still worked it and still believed in it as the main source of life. Their songs and dance and cuisine, sure, but also the morals they lived by and most importantly the symbolic similarity of their attachment to it with that of olive and myrtle trees."

He made several failed attempts to rewrite and to translate the story where "the beauty is the land and the beast is the war", but, he explained at the launch: "It wasn't until I immigrated back to Lebanon – once an immigrant always an immigrant I guess – that I could embark on writing a brand new novel in English, based loosely on [the Arabic] 'The Green and the Dry'.

"There, from my mountain retreat, it was like deep sea diving to retrieve a treasure from a drowned ship. The crucial challenge was finding ways to convey in English the spirit of tradition and a verbal heritage loaded with songs and sayings and proverbs."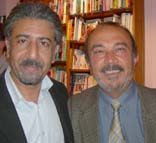 Poet and journalist Amjad Nasser with the author