Buy Now
Buy now online
Use your credit or debit card details to purchase from our distributor, InPress.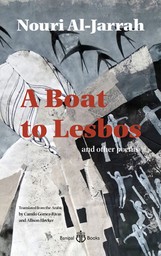 A Boat to Lesbos
by Nouri Al-Jarrah
ISBN:
9780995636941
Paperback • 120pp
Illustrated with 20 paintings by Reem Yassouf
Available now via PayPal. UK £9.99 post free, rest of Europe £13.50, rest of world £14.50. Choose your postal region from the list below and click on the PayPal button.