Book Reviews


Cairo Modern

by Naguib Mahfouz

Translated by William M Hutchins

The American University in Cairo Press, 2009
SBN 978 977 416 156 8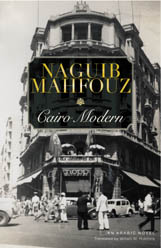 The Rise and Fall of an Anti-hero


Although Cairo Modern was first published in 1945 (as al-Qahira al-jadida), and is set in the early 1930s, it is in some ways remarkably undated. There is much in it that chimes with present-day Egypt as, with skill and wit, Mahfouz takes us inside the power system with its huge network of patronage and corruption.

This morality tale narrates the rise and fall of anti-hero Mahgub Abd al-Da'im, a student at King Fuad University who comes from a poor family in the town of al-Qanatir, where his formative years were spent on the streets. Mahgub and his three closest friends are just four months away from their final exams. The friends represent different trends. Ma'mun Radwan is an Islamic fundamentalist, an industrious, self-disciplined young man with a passionate love of books. Ali Taha has abandoned his religious faith and embraced materialist philosophy. Searching for an ethical system he found his "saviour" in the philosopher Auguste Comte. Ahmad Badir, who is already working as a reporter, thinks that "a journalist should listen and not speak, especially nowadays" and seems to be somewhat of a Capitalist.

Mahgub dismisses his friends' beliefs and discussions and calls "for liberation from everything: from values, ideals, belief systems and principles, from social culture as a whole". He is full of resentment and sarcasm and envies the handsome, athletic Ali Taha for having as his girlfriend the beautiful Ihsan, while Mahgub has to make do with street sex bought for a few piastres from a girl who scavenges for cigarette ends.

Ihsan is also from a poor family. Her father has squandered the life savings of her mother, a former street singer, on drugs and gambling and scrapes a living from his tiny cigarette shop. In her parents' eyes her main asset, her "astounding beauty", must be translated into wealth. She has already angered her father by rejecting one wealthy suitor, and he sees Ali as a poor prospect sent by God "to starve us to death!".

Soon, Mahgub descends into even more financial hardship after his father, who has been sending him three pounds a month, becomes bedridden and has to give up his job as a clerk. He will now only be able to pay Mahgub just one pound a month. Mahgub decides to approach a few people he knows to see if they can help him, but has no luck. He then turns for help to Salim al-Ikhshidi, a vain, supercilious young man from his home town who is climbing the ladder of government service and is office manager of the well-connected Qasim Bey Fahmi. Al-Ikhshidi gets Mahgub work on a magazine and introduces him to a world in which every person of influence has their price.

After a few failed attempts at connecting Mahgub with various influential people, Mahgub is summoned to see al-Ikhshidi who tells him an extremely beneficial opportunity has presented itself: If Mahgub will marry that day, sight unseen, a certain girl whose virginity has been taken by Qasim Bey, he will be rewarded with a position as the Bey's secretary. Qasim intends to keep the girl as his mistress - the marriage will be a cover. He will install the married couple in a luxurious flat, all expenses paid, and will regularly visit the wife while the husband makes himself scarce. Mahgub agrees to the hasty marriage - only to find at the marriage ceremony that his bride is Ihsan.

Mahgub's attitude towards Ihsan is both realistic and hopeful. In characteristically blunt fashion he thinks of their union as that between a pimp and a whore. He wants "a mutuality of desire, a longing compatible with his, and a lust that mirrored his own". But he also tells her that marriage could be a prelude to love. The couple attain some tenderness and sexual enjoyment, but neither finds the love they yearn for in the other, and despite the pleasure and luxury of their lives they are unsatisfied. Anxiety creeps into Mahgub's mind, as the Bey's frequent visits to Ihsan forces him to spend his time trawling bars. But however much he might joke to himself about his status as a cuckold, he finds it difficult to free himself from feelings of jealousy and the concept of honour.

After Qasim Bey becomes a minister in a change of government, Mahgub is appointed as his office manager. Al-Ikhshidi covets Mahgub's new post and asks him to swap jobs with him, but Mahgub refuses. Al-Ikhshidi seeks revenge. Mahgub has left himself all too vulnerable to disgrace. Not only has he embarked on a shameful marriage but he has not told his parents he is married and has continued to claim to them that he is too poor to send them money.

In the final denouement, Mahgub's father, tipped off by al-Ikhshidi, arrives at Mahgub's flat shortly before Qasim Bey also arrives on a regular visit to Ihsan. His father is furious to find Mahgub, who claimed to be mired in misery and poverty, installed in a luxury flat and saddened to find he has married without telling him. There is mayhem when the Bey's enraged wife also turns up. All is undone for Mahgub.

In Cairo Modern Mahfouz writes uninhibitedly about the sexual and emotional lives of his characters, probing their psychological complexities and writes particularly sympathetically of women and describes with relish their physical charms and personalities. It is an elegantly-structured entertaining work that reveals Mahfouz's gifts as a master storyteller and William M Hutchins' translation has a freshness and vitality.

From Banipal 35 - Writing in Dutch

Back to top