Back Issues
Banipal 56 - Generation '56 (Summer 2016)
This issue is also available as ISBN 978-0-9574424-9-8
as well as part of a subscription


EDITORIAL

Ahmed Al-Mulla: Nine Poems, translated by Paul Starkey, Youssef Rakha and Raphael Cohen
Raouf Kobeissi: A short story Jane
Safaa Fathy: Poems from Revolution goes through Walls, translated by Ken Kincaid and Pierre Joris with the author
Rashad Abu Shawar: Excerpt from a novel I shall see with your eyes, my darling, translated by Julia Ihnatowicz
Mahmoud Shahin: Review of the above novel, translated by Robin Moger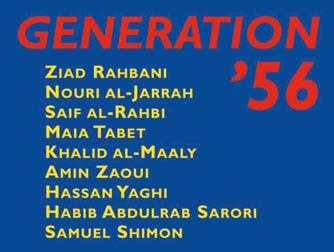 Introduced by SAMUEL SHIMON
ZIAD RAHBANI: Portrait by Bachir Sfeir
with Words & Sketches, translated by Paula Haydar
NOURI AL-JARRAH: Portrait
with Five Poems, translated by Allison Blecker
KHALID AL-MAALY: Twelve Poems, translated by Sinan Antoon, with Portrait
SAIF AL-RAHBI: Portrait by Farouk Yousif
and Two Poems
MAIA TABET: Self-Portrait
HABIB ABDULRAB SARORI: Self-Portrait
and Excerpt from his novel The Hoopoe's Report, translated by William M Hutchins
HASSAN YAGHI: Portrait by Pierre Abi Saab
AMIN ZAOUI: Portrait by Max Véga-Ritter
and Excerpt from his novel Devil Street, translated by Robin Moger
Continued . . .


Tayeb Salih: Excerpts from the novel Mansi: A Rare Man in his Own Way, translated by Adil Babikir
Abdel Aziz Baraka Sakin: Excerpt from the novel The Waste Man, translated by Spencer Scoville
Kamal Elgizouli: A short story, The Return of Grandma Wardeh, translated by Adil Babikir
Hisham Adam: Excerpt from the novel Kajoumi, translated by Paul Starkey
Bushra el-Fadil: A short story, Hahina and Hawahi, translated by Julia Ihnatowicz
TRIBUTE
Remembering Erdmute Heller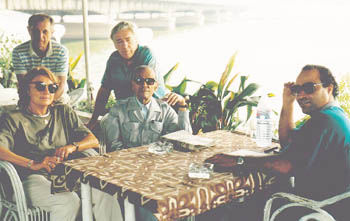 Erdmute Heller with Naguib Mahfouz, Hassouna Mosbahi (right), and film crew of the film she was making on Naguib Mahfouz in 1988, just before he was announced as Nobel Laureate.


BOOK REVIEWS
Margaret Obank: The Jungo Stakes of the Earth by Abdelaziz Baraka Sakin
Olivia Snaije: Ici Même by Taleb Alrefai
Becki Maddock: The Televangelist by Ibrahim Essa
Paul Blézard: Beirut Noir, ed. Iman Humaydan
Clare Roberts: Whitefly by Abdelilah Hamdouchi
Andrew C Long: Monarch of the Square by Muhammad Zafzaf
BOOKS IN BRIEF
reviewed by Emma Branagan, Laura Ferreri, Margaret Obank, Susannah Tarbush and Aurora Tellenbach
FICTION: The Dove's Necklace, The Automobile Club of Egypt, Ali and his Russian Grandmother, The Holy Sail, Via Negativa, Snow in Amman: short stories from Jordan, Translating Libya: in Search of the Libyan Short Story, Dreams of Maryam Tair, Timeless Tales: Folktales told by Syrian Refugees.
POETRY: Love is my Saviour: the Arabic Poems of Rumi.
MEMOIR: The Return: Fathers, Sons and the Land in Between.
NON-FICTION: Romeo and Juliet in Palestine: Teaching under Occupation, On Literature and Philosophy: The Non-Fiction Writing of Naguib Mahfouz, Aleppo: the rise and Fall of Syria's Great Merchant City, The Crossing: My Journey to the Shattered Heart of Syria.
CHILDREN'S LITERATURE: Azizi and the Little Blue Bird.
EVENT
London: An Evening with Sudanese authors Ahmad Al Malik and Tarek Eltayeb (with Banipal 55)
* * * * *
Writers of portraits are:
Pierre Abi Saab, Bachir Sfeir, Max Véga-Ritter and Farouk Yousif
The translators are:
Sinan Antoon, Adil Babikir, Allison Blecker, Raphael Cohen, Paula Haydar, Julia Ihnatowicz, William M Hutchins, Pierre Joris, Ken Kincaid, Robin Moger, Youssef Rakha, Christopher Schaefer, Spencer Scoville, Paul Starkey and Jonathan Wright

For information about all contributors to Banipal's issues – authors, writers, reviewers, illustrators, artists, and of course, all translators – check out their individual webpage at http://www.banipal.co.uk/contributors/
* * * * *
This issue of Banipal is supported by



---
Selections from this issue
POETRY