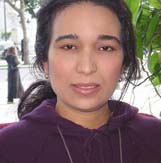 Amel Moussa is a poet and cultural journalist from Tunisia. She works as a journalist for Al-Sharq Al-Aswat newspaper, and with a Masters in sociology, also teaches media and communication and is a cultural consultant at the Tunisian Association for Arts and Sciences.

She has received the country's National Creative Award for poetry and an award from the Arab Women's Organisation for her journalism in Tunisia. Her collections Untha al-Ma' (Female of Water), 1996 and Khajal al-Ya'kout (The Emerald's Bashfulness), 1998, have been published in Italian editions and some other poems in English (in Banipals 2 and 39), Spanish, French, Polish and Czech. She travels widely to festivals and literary events.


Contributor's Issues
Banipal No 2 June 1998
Banipal No 39 Modern Tunisian Literature (2010)

Latest News
16/02/2017
IPAF Short list Announced
[read more]
30/01/2017
Complete Digital Archive of Banipal is launched
[read more]
26/01/2017
Ali Bader selected as First Banipal Visiting Writer Fellow
[read more]
25/01/2017
Saif Ghobash Banipal Prizewinner Jonathan Wright and his author Saud Alsanousi celebrate in Manchester on 23 February
[read more]
16/01/2017
International Prize for Arabic Fiction 2017 – Longlist announced
[read more]
13/01/2017
Syrian writer Khaled Khalifa writes on being Syrian today – "the issue in Syria is not one of refugees but of a whole population that is being turned into either corpses or forced to flee while the world stands silently by"
[read more]
[read all news stories]