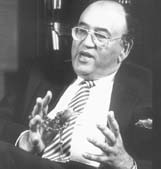 Ghazi Algosaibi was a respected Saudi intellectual, poet, essayist and critic, and government minister, well known in the Arab world in the worlds of academia, politics and diplomacy.

He published over 30 works in Arabic including poetry, essays, prose meditations and novels. Two of the novels were published in English – Seven, translated by Basil Hakim and Gavin Watterson (Saqi Books, 1999); and An Apartment Called Freedom, translated by Leslie McLoughlin (Kegan-Paul, 1996). Seven was reviewed in Banipal 7, while Banipal 5 includes an interview with him by Margaret Obank, made when he was the Saudi Ambassador in London.

Ghazi Algosaibi was a liberal and modernising force in the country, and worked for democraric reform. He held a number of government offices, including Minister of Industry and Electricity (1976-1983) and Minister of Health (1983-85). He also served as Saudi Arabia's Ambassador to Bahrain and from 1992 to 2002 as Ambassador to the United Kingdom. His last post was as Minister of Labour, which he held until his death.

His books were banned in Saudi Arabia, with the ban being lifted only a few weeks before he died from cancer.

Ghazi Algosaibi: born 3 March 1940 and died 15 August 2010.
Contributor's Issues
Banipal No 5 Summer 1999
Banipal No 1 February 1998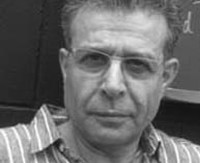 Latest News
16/02/2017
IPAF Short list Announced
[read more]
30/01/2017
Complete Digital Archive of Banipal is launched
[read more]
26/01/2017
Ali Bader selected as First Banipal Visiting Writer Fellow
[read more]
25/01/2017
Saif Ghobash Banipal Prizewinner Jonathan Wright and his author Saud Alsanousi celebrate in Manchester on 23 February
[read more]
16/01/2017
International Prize for Arabic Fiction 2017 – Longlist announced
[read more]
13/01/2017
Syrian writer Khaled Khalifa writes on being Syrian today – "the issue in Syria is not one of refugees but of a whole population that is being turned into either corpses or forced to flee while the world stands silently by"
[read more]
[read all news stories]