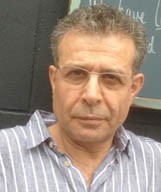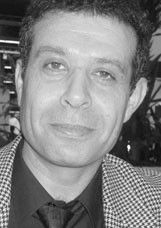 Nouri al-Jarrah is a Syrian poet, born in Damascus in 1956. He lived in Beirut since 1981, then Cyprus and, since 1986, in London working as a journalist. He established Al-Katiba [The Woman Writer] literary magazine, publishing 14 issues.
He first attracted attention with his collection of poems, The Boy, published in Beirut in 1982, after which he published various books of poetry including: Keeping up with the Voice (London, 1988); Ode to a Voice (Cologne, 1990); Death's Childhood (Casablanca, 1992); A Dark Glass (London, 1993); Poetry and Poetry Reflected (Beirut, 1995); The Dawn of April (Beirut, 1996); Hamlet's Gardens (Beirut, 2003); The Road to Damascus and The Persian Garden (Beirut, 2004); The Day of Cain (Haifa & Beirut, 2013); Noah's Despair (Beirut, 2014); Abel's Elegies (Beirut, 2015) and Four Elegies (Istanbul, 2016). His works have been published in Beirut, Cairo, Algeria, London, Haifa, Nicosia and Istanbul, among others.
He has published over 14 collections of poetry, his most recent, (Boat to Lesbos), being published in Milan by al-Mutawassit Editions, and part of it in English translation in Banipal 57 – Syria in the Heart. Selections from his poetry have been translated into a number of Asian and European languages, and his poetry collections have also been published in French, Spanish and Farsi.
He has founded a number of literary magazines, hugely contributing to the Arabic literature/ poetry scene. Among the most prominent were: The Critic (London, 1988-1992); The Woman Writer (London, 1993-1995); The Journey (London, 1995) and currently The New (London, 2015). Despite having to be published abroad, due to the lack of freedom in Arab states, these magazines have still managed to make a profound impact on Arabic literature and poetry.
He has also been influential in reviving the role of travel literature in Arab culture. In 2000, he and Mohammed Ahmed Al Suwaidi established The Centre for Arabic Geographical Literature, based in Abu Dhabi, which administers the Ibn Battuta Prize for Travel Literature. During the past fifteen years, many Arab and foreign writers who work in this fascinating field have received the award.
Contributor's Issues
Banipal No 3 October 1998
Banipal No 18 Autumn 2003
Banipal No 56 Generation '56 (Summer 2016)
Banipal No 57 Syria in the Heart

Latest News
16/02/2017
IPAF Short list Announced
[read more]
30/01/2017
Complete Digital Archive of Banipal is launched
[read more]
26/01/2017
Ali Bader selected as First Banipal Visiting Writer Fellow
[read more]
25/01/2017
Saif Ghobash Banipal Prizewinner Jonathan Wright and his author Saud Alsanousi celebrate in Manchester on 23 February
[read more]
16/01/2017
International Prize for Arabic Fiction 2017 – Longlist announced
[read more]
13/01/2017
Syrian writer Khaled Khalifa writes on being Syrian today – "the issue in Syria is not one of refugees but of a whole population that is being turned into either corpses or forced to flee while the world stands silently by"
[read more]
[read all news stories]