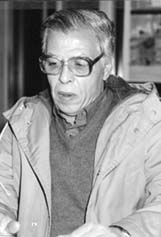 Mohamed el-Bisatie passed away on 14 July 2012 after a long illness. His long-time friend and translator Denys Johnson-Davies told Banipal that he "was a writer who was not afraid to treat death as an inevitable part of life. [His passing] is a big loss for Egypt and the Arab world."
Born and brought up in the Nile Delta he started publishing short stories in magazines, and in 1968 his first full collection was published. After that, came six more volumes of short stories and eleven novels, with six published in English translation, and some in French, German, Italian and Spanish.

A collection of his short stories translated by Denys Johnson-Davies was published in the mid-1990s – A Last Glass of Tea and Other Stories, and in 2003 AUC Press published Johnson-Davies's translation of his novel Houses Behind the Trees.

Banipal No 7 published an extract from the manuscript translation by Hala Halim of Clamor of the Lake, with the whole book published by AUC Press in 2004. This novel,translated by Hala Halim, was runner-up in the inaugural Banipal Prize for Arabic Literary Translation, awarded in 2006. Click here for more details.

In 2006 his novel Over the Bridge, translated by Denys Johnson-Davies was published by AUC Press, and in 2008, his novel Hunger. In 2010, AUC Press published his novel Drumbeat, translated by Peter Daniel and excerpted in Banipal 37 (Spring 2010).

The Arabic orginal of Hunger was short-listed for the International Prize for Arabic Fiction 2008-09.

Mohamed el-Bisatie was awarded the prestigious Oweis Prize in 2001.

To read the tribute to Mohamed el-Bisatie on Banipal's News column, with commemorations by Denys Johnson-Davies and Hala Halim, please click here.
Contributor's Issues
Banipal No 7 Spring 2000
Banipal No 37 IRAQI AUTHORS (2010)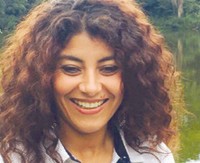 Latest News
24/04/2018
Ibrahim Nasrallah wins 2018 International Prize for Arabic Fiction
[read more]
07/03/2018
Sheikh Zayed Book Award announces the 2018 Shortlists
[read more]
26/02/2018
Shortlist Announced for IPAF 2018

[read more]
22/02/2018
On 3 March: Three award-winning translators to discuss "Translating Arabic Fiction Today"
[read more]
17/01/2018
Longlist for 2018 IPAF announced
[read more]
10/01/2018
Robin Moger is winner of 2017 Saif Ghobash Banipal Translation Prize
[read more]
[read all news stories]