Hisham Adam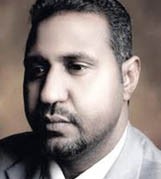 Hisham Adam was born in Cairo in 1974 into a Sudanese family. He graduated in Arabic Language and Psychology, Khartoum University, 1998.
He has published six novels,with Gonglese (Sudan, 2010), winning that year's Tayeb Salih Writing Competition, and Kajoumi (see Banipal 56 for a translated excerpt starting on p176) receiving 2nd prize in the 2015 Competition.
He has also published Blasphemies in Contemporary Literary Criticism and contributed short stories to two French, English and Romanian collections.
He has been living in Belgium since 2012.
---
Contributor's Issues
Banipal 56 - Generation '56 (Summer 2016)